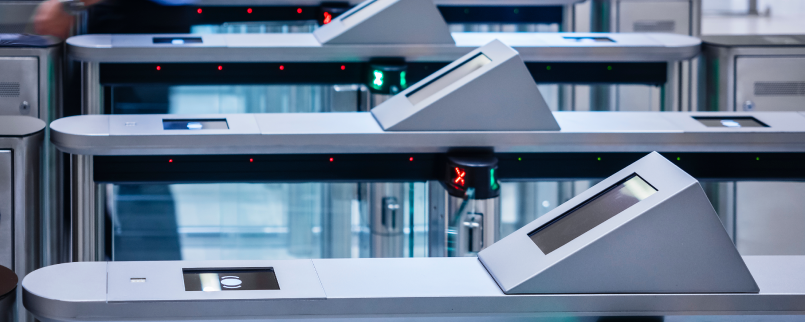 An airport certainly makes the first impression of a city or a country and it's important to get that first impression right. Airports are always struggling of constantly arriving and departing passengers, floating luggage, the constant threat to security and tons of cargo moving in and out of terminals. Hence, a smooth flowing operation is essential for 24x7.

With airline passenger traffic around the world increasing day by day, it's never been more critical to keep people moving safely and efficiently. TAV Technologies TDAS product uses real-time data to instantaneously verify or deny passenger clearance against airport and airline systems, strengthening security while reducing queues and providing valuable data for improving the passenger experience and airport operations.

The key benefits of TAV Technologies TDAS product are:
• Fast, efficient security check-point verification
• Self-service or agent assisted clearance
• Verification against airport or airline systems
• Conformance with local authority systems
• Improved customer experience and operational efficiency

TAV Technologies TDAS is highly flexible, scalable and can be customized and tailored according to the specific needs of airport and passengers.

BENEFITS
ENHANCED
SECURITY

Ensure a valid boarding pass to access to a zone based on business rules
Clear decision on Deny/Allow reduces human error and speeds passenger throughput
Enforce regulations easily and reduce potential fraud

SEAMLESS INTEGRATION

Integration with Airport Management Systems, Airline Systems* and Local Authorities* enables a seamless process and integrated verification management
Ready for integration with state-of-the art technologies such a Biometrics, Passenger Tracking and Queue Management

AIRPORT OPTIMIZATION

More visibility on the passenger flows in the airport. For example, airside ground handlers at boarding gates can see passenger lists who are on the airside
A step towards self-service revolution with reduced queue times
Valuable and actionable data supporting Business Intelligence

PASSENGER EXPERIENCE

A new outlook on customer relations and personalized customer experience
New touch points with customer, which can be converted into service and revenue opportunities such as update and related messages, tailored services and upsell opportunities.
FEATURES
Functional Feature

Description

Open Architecture

Open architecture allows integration with airline DCSs, airport systems (AODB/FIDS/BRS/…), and local authority systems and can be extended with related systems such as Business Intelligence, Queue Management, Flow Tracking.

Standalone/ Integrated mode

Ready to use in standalone or integrated mode (with TAV IT suite of solutions such as AODB, RMS, FIDS and other systems.)

Mobile or fixed equipment

e-Gates or handheld terminals(HHT) suitable for different needs of the terminal areas and business, offering great flexibility and mobility for airports.

Enhanced Security

Clear 'Deny/Allow' decision, automated validation built upon rule based configuration, enforcing regulations easily and reduce potential fraud.

Validation Rules

Detailed validation rule set which can be configured via user-friendly web based graphical user interface. Pre-defined set of rules which can be tailored based on the needs of airport.

Uniqueness: Duplicate passing check
Time-window: More/less than X min/hour/day
Flight Status: Departed, Cancelled, Closed
Zone-check: International Land to Air ,International Air to Land, Domestic Land to Air, Domestic Air to Land, International Air to Air
PAX Status: Standby, No check-in, Already Checked-In, Transit

Boarding Pass Reader

Omnidirectional 1D and 2D images
IATA PDF417 2D compliant, 2D and linear symbologies
2D barcode images on mobile phone and PDA displays
IATA and CUTE barcodes
Code 1D: Code 39, Code 128, Codabar F, UPC, EAN, Interleaved 2 of 5;
Code 2D: PDF 417, Datamatrix, QR code, Aztec

Notifications

The system generates notifications based on real-time data so that the airport operation team can take the necessary actions. For example, if a passenger scans his boarding pass very late at a specific point, the system notifies the users.

Real-time Statistics

Information such as the passenger count through particular gate in particular time window, per flight, per airline etc.

Reports

Extensive statistics/reporting features to evaluate the operational efficiency and facilitate the decision making processes for future planning.

Dashboard

Intuitive and user-friendly dashboard providing information about different dimensions in terms of device type(fixed/mobile), number of passing per device, terminal area (international/domestic), airline, flight type.

Audit

Full audit trail and history reporting on the system accessible through the web interface

Administration

User friendly graphical interface for setting up devices, applying validation configuration rules, managing system users and tracking passengers.

Business Intelligence

Business intelligence reports on passenger flow, dwell-time and route through airport. Enrich airport data with accurate passenger information for the benefit of airline customers and other airport partners.

Optimized Passenger Experience

As the passenger proceeds to the departure gate, valuable information is provided about passenger's location and activity. TDAS solution can be integrated with other systems when boarding pass is swiped at retail shops, food & beverage facilities and at the lounge access, providing key opportunities for:

Updates and personalized message
Tailored services
Upsell opportunities

Biometric Ready

Ready to be integrated with self-service passenger flow systems using biometrics technologies (face, fingerprint and/or iris)
Travel Document Authorization System Frequently Asked Questions
If you want to learn more about the Airport Travel Document Authorization System, please see the following section:
Q1.What is travel authorization?
A travel authorization is a process to verify that passengers have the necessary documentation to travel to a particular destination. This can include passports, visas, and other forms of identification. A Travel Document Authorization System (TADS) manages this process, ensuring passengers have the necessary documentation before boarding their flight.
Q2.How does a TADS integrate with other airport systems?
A TADS system can integrate with other airport systems, such as the CUPPS system, to help streamline the travel authorization process. This integration allows for the seamless transfer of information between systems, ensuring that passengers are quickly and efficiently authorized to travel. TADS can also integrate with airline and government systems to facilitate the sharing of information and improve the overall efficiency of the travel authorization process.