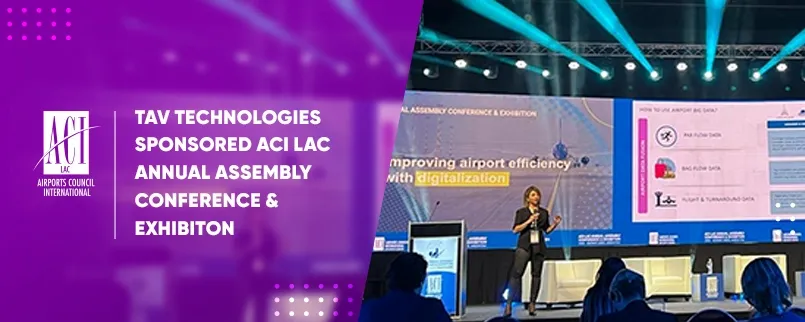 The 2022 ACI Latin America and Caribbean Annual General Assembly, Conference & Exhibition brought together senior executives and professionals of the airport industry from all over the world. The conference highlighted several discussion topics encouraging changes and evolution in the industry. The airport community gathered in Buenos Aires, Argentina, on 2-4 October 2022 to share their experiences and attend workshops.

Raising Voice in Latin America

As we expanded our business in different regions with our products and services, the company representatives started to take an active role in regional events and gatherings. Sponsoring ACI Latin America & Caribbean Annual Assembly Conference & Exhibition is one of the indicators that TAV Technologies is ready to offer its cutting-edge solutions to help airports and increase their operational efficiency in the region. The event also allowed us to sponsor a lunch activity for the ACI LAC board members. The gathering was a good step in developing relations between the partners.

During the 2 days event, ACI LAC representatives and public officials of Argentina transportation management also shared their knowledge and experience with the community. Speakers had a chance to mention their ideas regarding essential topics such as challenging conventional airport economic regulation, optimizing airport operations with technology, and aviation path to a net zero future.

Digitalization with Various Technology Solutions in Airports

Aytan Masteliyeva, TAV Technologies Head of Sales and Account Management, presented "Improving Airport Efficiency with Digitalization" at the conference. Ms. Masteliyeva focused on our digitalization approach under five main titles:

She explained the benefits of technology solutions on airport performance during her speech with real-life examples. If you want to learn how to decrease costs and improve decision-making, please contact us for further details.